With a Simple Herb Found in Your Garden – Thats the Magic of Rosemary
Rosemary is called by many names, "incensier" being one of them. Like myrrh and frankincense, it was used as incense in ancient times.
Before important rituals took place, sprigs of rosemary were burned for cleansing and protection.
It was an important symbol used in wedding ceremonies to ensure fidelity in marriage. It also meant abiding love and friendship. In more modern times, we find this symbolism in many things, including magical formulas and love spells.
Rosemary as a symbol of love and sexuality
Scientifically, the herb is called Rosmarinus officinalis. Its genus, Rosmarinus, is of Latin origin which means "dew of the sea".
The herb has strong ties with the Greek goddess Aphrodite.
Myths have it that Aphrodite was born from the foaming waters (aphros) of th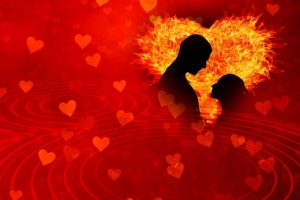 e sea which brought her to the shores of Cyprus. She was often depicted with myrtle and rosemary draped around her.
Both being "natives of the Mediterranean", so to speak, the association between Aphrodite and rosemary is preordained. As Aphrodite is symbolic of love, beauty, and procreation, so is rosemary referenced as aphrodisiac with suggestions of virility and fertility. Inevitably, rosemary too has become a symbol of love and sexuality.
Rosemary in ancient love rituals and spells

Rosemary is one from ancient times. Brides braided rosemary as tiaras and also carried sprigs in their bouquets. Grooms pinned twigs on their sleeve or breast. It was also common practice to dip rosemary in the wine that newly-weds drank in their wedding reception.
Couples believed that rosemary helped them remember their wedding vows of enduring love.
To say that rosemary has a varied history embellished with lore and legend is an understatement. It had been deeply intertwined in beliefs, art, medicine, and tradition. It had been extensively used in rituals, baptisms, weddings, and burials. Not a few tales about gods and goddesses, queens and emperors, as well as fairies and witches surrounded this herb. As a result, more recent magical rituals are a crisscross of practices from various religions and cultures.
Modern charms and love spells that work
Don't you sometimes think you need a little magic? Or perhaps wish to add zing to your humdrum life? Well, we have a couple of spells that we'd love to share. They don't require elaborate procedures and materials. There won't be any complex incantations or need for supernatural interventions. And yes, you won't need to make donations to online witches.
These are simple love spells that use rosemary and a few supplies from your pantry or your desk.
It will need your time and a little creativity – not at all complicated.
Love spell to draw attention through the mail
Prepare yourself and your room. Make sure you're alone and the room is quiet. Take a relaxing bath, play soothing music, and fill your thoughts with love.
Burn some incense using rosemary sprigs. This will expel negativity, cleanse the surrounding air, and welcome blessings. Collect your thoughts and clarify your intentions. Don't wish for a specific person or name. Instead, fill your mind about attracting a person who possesses the qualities that you wish for.
Write a letter or a poem to that ideal person, what you like about him or her and how you want your friendship or relationship to grow. Don't rush. Write everything in your mind and heart. When you're done, put your letter in an envelope along with rosemary leaves. Seal and stamp the envelope. Address and mail it to yourself.
When you receive your self-addressed envelope, keep it unopened.
The spell starts working by attracting your ideal person towards you.
Keep an open mind. This won't bring love knocking at your door, but the spell will influence the right energies and attention toward you. Only open the envelope when you think that the right person has found you.
Love spell for that unforgettable impression
Say, you've attracted someone who looks like the person of your dreams.
Finally, you're going to your first date. Wouldn't it be a good time to have that person literally spellbound?
Of course, it is. Here's how to make your mark.
First, take a bath. Not much of a tip, huh? Well, actually, take two baths. The first one is your regular bath. The second will be your ritual bath. Fill the tub with warm water. Fill it with rosemary sprigs. (Just a practical note: Don't remove leaves from the stem as this will be difficult to clean your tub later.) You may add rose petals, also a potent love spell ingredient.
Soak in the warm bath, let the scents engulf your senses, and visualize happy thoughts about a future relationship. Just before you leave the house, dab a little rosemary oil behind your ears for that memorable impression.
Rosemary and the right attitude about spells
When working your spell, be at peace with yourself. These spells, the love bath ritual particularly, are more about loving yourself than about loving others. It is about finding your inner god.
Spells are not meant to hurt others, or make a person want you simply because you want him or her to. What they are meant to do is pave the way for the right person to discover you.
Rosemary makes a strong love spell but the right attitude binds all the aspects together for a more effective spell.